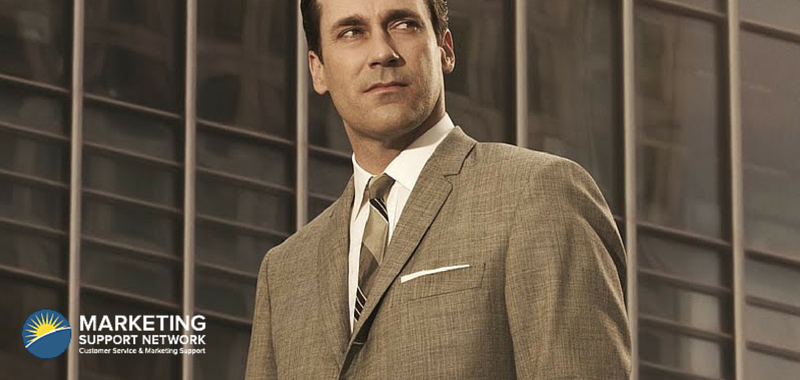 What Don Draper Taught Me About Social Media
Like anyone in business, I have entered a phase of binge watching Mad Men. I have heard that if I was going into business, specifically marketing, I needed to watch this show. Well, I'm hooked. I finished the first season this week and already have a lot of thoughts about how business has evolved since the 1960s and how it has stayed the same.
In the show, the men who are working in the advertising business are known as 'Creatives.' For 1960 this would've been a strange title to have, but, in today's world, it's a pretty cool label.
In this scene Don Draper (the lead) earned this title. He basically answers the question of what people want. This is the question every business has been trying to answer since before we had papyrus to write on. In three minutes he takes Lucky Strike from a failing business strategy in a failing market to a successful business strategy in a market they plan to revive. Of course, we all know the cigarette industry eventually did shrink, but Don Draper showed how a change of direction could save a business and distract the public from thinking about cancer.
"It's toasted" works because nobody is thinking about what the product does to them, they are thinking about the care and attention that went into making it. This line doesn't make a health claim; it focuses on what people want to hear. My job, in Social Media, is to find what people want to hear so our clients can have successful campaigns. Clients don't always see eye-to-eye with our ideas but it's our job to convey why we create the content we create for them. Don Draper has helped me to realize that I need to show clients what their audience wants to see. Draper didn't come up with an idea that had nothing to do with cigarettes. He simply redirected the approach to focus on the part of cigarettes that doesn't directly equate to cancer. When presenting a new idea to a client, I now show them how it can be linked to their brand and why this is what their audience has been craving all along.
I would argue some of these ideas have more potential than advertising on a cereal box. After all, there are more than two billion people using social media every day. Pay attention to your audience. They might not know what they want but, if you do, you could turn a business failure story into a business success story. The possibilities are limitless.
Matt's passion is plain and simple: help other people. In college, Matt quickly realized he had a love for connecting with people from all different backgrounds. His work, with a variety of nonprofit organizations, helped him to understand that one of the primary needs of people everywhere is the ability to connect with one another. Matt's background in business and a degree in marketing enable him to create innovative social media content to further develop the customer experience through social engagement.
Latest posts by Matt Slippy (see all)