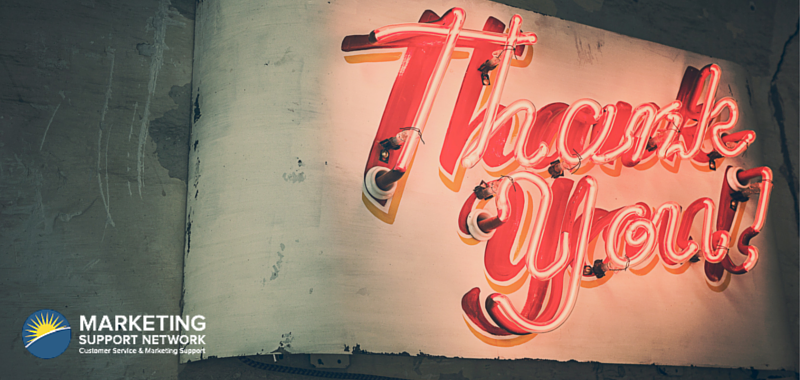 The Importance of Thank You
They may just be two little words, but it is hard to top the impact that they have when you put them together. "Thank You" is a small phrase for a big idea and it is invaluable in today's marketplace.
In social media we will often reply "thank you for sharing" when someone comments or shares or retweets a post. That little phrase tells the user that they have been heard by the organization and that their effort is appreciated. It shows the online community that an organization is listening and responsive and engaged with their online audience. Those connections matter.
In the outbound call center, we work with a number of nonprofit organizations and get to call their donors to say "thank you for giving". It lets donors know they are valued and that their gift is important and it lets an organization show their appreciation in a personal way. It's amazing to hear the tone of someone's voice change when they realize they aren't being asked for another donation, but instead, just appreciated for what they have done. Those connections matter.
Our inbound call center agents get to say the most variety of "thank yous" in the company; "thank you for your order", "thank you for your gift", "thank you for calling", or "thank you for sharing that story with us". From customer service questions to order placement, being able to convey that attitude of thankfulness on behalf of our clients goes a long way in building relationships and we take that very seriously. Those connections matter.
Businesses are nothing without their customers and clients. Nonprofits wouldn't be able to do their valuable work without their donors. Organizations that go into every interaction with the idea of thankfulness and appreciation for their constituents are more likely to retain their customers and donors. Providing a customer experience that is based in gratitude can lead to happier customers, donors, clients, and audience members.
Think of the interactions you will have with your constituents today. Will they walk away feeling valued, heard, and appreciated? If not, it may be time to rethink your strategy and make those two little words a focus. Those two little words can make all the difference.

As Director of Strategy and Development, Meghan helps our clients design solutions to connect, engage, and respond to their constituents across all communication platforms. Her background in marketing and public relations, combined with her creative ideas, help our clients build relationships that grow their brand. Meghan also manages our strategic partnerships to ensure our clients always have the best technology and services available to them.