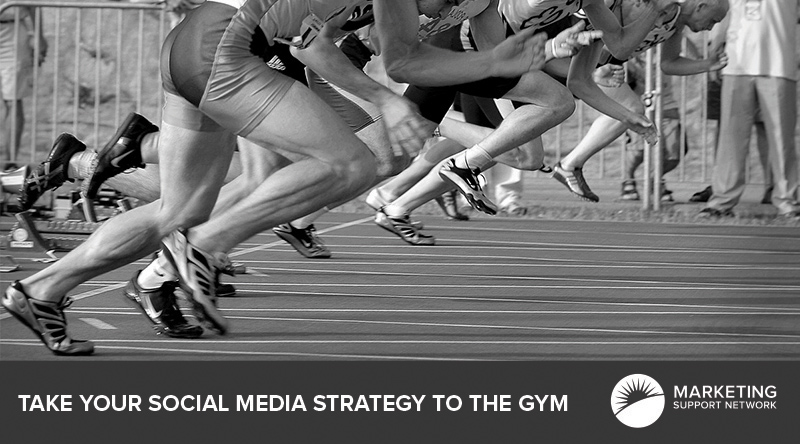 Take Your Social Media Strategy to the Gym
During the first week of January it seems like every machine in the gym is in use. People in new exercise gear are all set to dive into their New Year's resolution and get fit! But then life kicks in and those same people get busy and other things become a priority. Maybe they weren't seeing results as fast as they had hoped and that new class they took wasn't the miracle cure they'd hoped for so, six weeks later, the gym becomes something they do every now and again when they have the chance. It's a pretty common trend and one that, if we're honest, we've probably all fallen prey to at some point in our adult life. Now take that idea out of the gym. Take it to the office and let's apply it to how we tend to view social media. It might look something like this… It's the first week of a new quarter and it seems like everyone in the break room is buzzing. A young intern with a shiny new smart phone is ready to dive in and get the social media plan going! But then work kicks in and the intern gets handed projects to do to get ready for a trade show. Maybe the social page didn't grow as fast as your boss had thought and that new social media channel wasn't the marketing miracle cure you'd hoped for and so six weeks later and social media becomes something they do when they get the chance. Does this sound familiar? It should because that is how a lot of companies have treated social media over the last few years!  When looking at social media they forget some key elements that any good gym-goer will tell you:
Results don't come over night. They have to be worked for so you have to set your expectations accordingly.

You have to make the time. Other things will try to creep in and take over, but to do social media well you need to post and interact consistently. What will you do to make it a priority?

You have to have a plan. If you want to slim down, you need cardio. You want stronger arms, you lift weights. When you know what you want to achieve, you can better know what to post and where. What goal are you hoping to accomplish via social media?

You have to put in the work. Merely joining a gym does not get you fit. You have to go and put in the time to make it valuable. Joining social networks and never using them will produce the same limited results.
When you know what your goals are with your social media, set time to make them happen, and put in the work required to be a part of the social community, you will see results. Just like the guy who is still in the gym when spring and summer roll around.

As Director of Strategy and Development, Meghan helps our clients design solutions to connect, engage, and respond to their constituents across all communication platforms. Her background in marketing and public relations, combined with her creative ideas, help our clients build relationships that grow their brand. Meghan also manages our strategic partnerships to ensure our clients always have the best technology and services available to them.