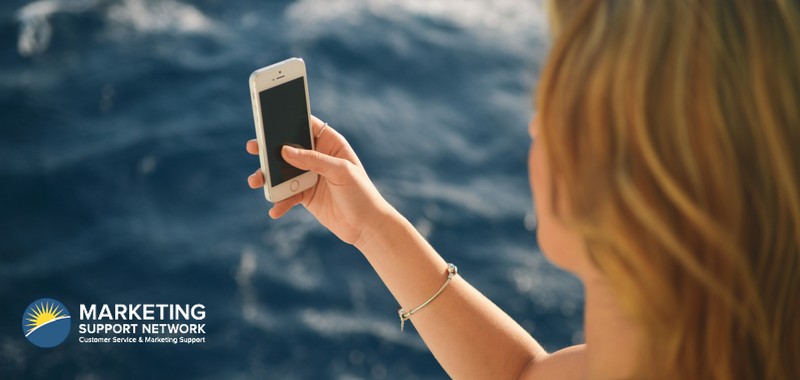 What We Learned From Our First Snapchat Geofilter
Like every good Digital Media Manager, I love to test out the "new and shiny toy" when they come out. I love trying new platforms and new features to see if they are something that would work well for a client. So when Snapchat rolled out a new tool that made Geofilters even easier to create and run, I had to give it a try.
Going into the test I wanted answers to a few questions that would be helpful for us in talking to clients about this option. I needed to know:
How much time does it take to set up and how easy is that process?

What are the cost options?

What data do you get back in return?
Armed with these questions, we set out to test the first-ever Marketing Support Network Geofilter!
I quickly learned that the answer to my first question was "very easy and no time at all". Snapchat has done an excellent job with the latest roll-out of their One-Demand Geofilters. It's easy to upload a custom image that you've created (1,080 x 1,920 pixels) and they've included a number of customizable templates for various occasions if you don't want to design one yourself. Once the design is uploaded, you simply select your date range, the area you want to cover, and hit submit. It's an extremely user-friendly process.
The tool to select your geographical area also provided the answer to my second question. As you draw borders on the area you want your filter to reach, Snapchat shows you what the cost will be to cover that area for the length of time that you've selected. It's then easy to adjust the area or the date and length of time accordingly to match your budget. For our test, we chose to cover the business park where our office is located and to have the filter run for four hours on one day.
After the filter expired we had to wait 24 hours for the data's availability so that all the Snaps would have time to go through their whole lifecycle. When it comes to what data we received, the answer was "not much". What we learned was that our filter had been used 18 times and those 18 Snaps had been seen by 362 people. We don't know who used the filter, what photos they posted, or anything about the demographics of who saw the filter images. What we do know is that we spent $5.10 on this test and 362 people saw it, giving us a Cost Per Impression (CPM) of $0.014. While you can't get a lot of data about the users, Geofilters proved to be an extremely cost effective way to get our name in front of people even if it was for just ten seconds or less.
If you're looking for an in-depth data analysis about the audience you're trying to reach, it may not be the tool for you. However, if your organization or brand is looking for a cost-effective way to get your name out in a specific area, this is a great way to go. Geofilters are a fun way to introduce yourself into a community and a great tool for creating new brand advocates. We'd be happy to talk with you further about whether or not Snapchat is right for you.

As Director of Strategy and Development, Meghan helps our clients design solutions to connect, engage, and respond to their constituents across all communication platforms. Her background in marketing and public relations, combined with her creative ideas, help our clients build relationships that grow their brand. Meghan also manages our strategic partnerships to ensure our clients always have the best technology and services available to them.