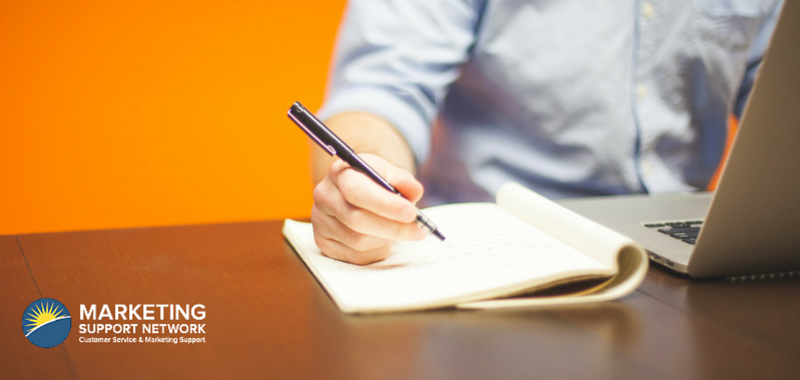 Leadership Experience: Quality Control
At Marketing Support Network, we value people. Not just the people who work here, but people everywhere. Our primary goal is to provide the highest level of customer service for our clients and improve that service so that our client's customers are more satisfied than they would be anywhere else. To make sure every interaction is a positive one, Michael Carnevale checks (and double checks) every call, email, or letter we send.
Michael has been working as our Database Services Manager for the past five years and brings with him many more years of customer service experience. He has worked in other call centers, retail, and fast food. His experience helps him to know what to look for in a customer interaction: both good and bad. That's why he's the master of quality control here at MSN.
Michael says his primary strength is that he's analytical and objective when it comes to turning data into useable information. However, it isn't his strengths he wanted to emphasize in our interview, it's the team. He says that having a team philosophy helps him to do his job best. "Everyone has their own unique strengths and we want to make sure people are doing what they like to be doing best." Michael has something of a knack for picking up on people's strengths. When he listens to phone calls, he can tell if an agent is enjoying the interaction and giving the customer the experience they deserve. If they aren't, he'll help to train them on a new assignment that's a better fit for their skills. He rejects the common misconception that MSN is a "telemarketing" center. "We aren't an old school telemarketing company. We're really connected with the people who make calls and the clients we work with."
I asked Michael what his biggest lesson has been from working in this industry. His answer: attention to detail. "Make it a part of your daily routine. Develop good work habits and always double check your work." His advice to me: never stop learning. "Learning doesn't stop when you leave the classroom. You've got to be willing to push yourself out of your comfort zone." That's good advice.
Matt's passion is plain and simple: help other people. In college, Matt quickly realized he had a love for connecting with people from all different backgrounds. His work, with a variety of nonprofit organizations, helped him to understand that one of the primary needs of people everywhere is the ability to connect with one another. Matt's background in business and a degree in marketing enable him to create innovative social media content to further develop the customer experience through social engagement.
Latest posts by Matt Slippy (see all)