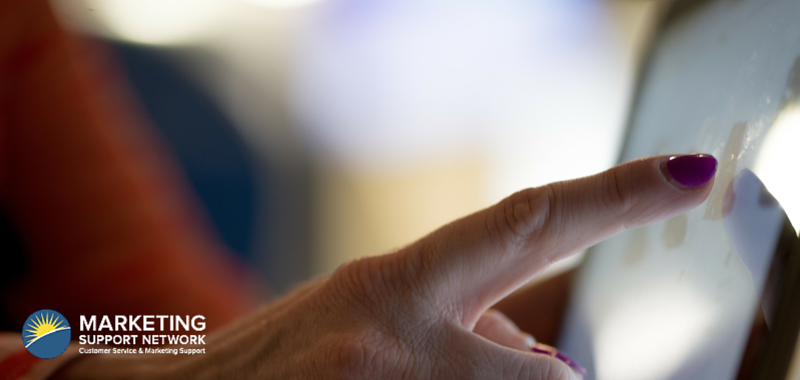 Leadership Experience: Marketing Services
Over the next several weeks, the Digital Media Specialists will be conducting interviews with the dedicated employees who keep Marketing Support Network running successfully all day (and night) long. It is only appropriate to start this spotlight series with one of Marketing Support Network's longest employees, Debbie Johnston.
In 1989, Marketing Support Network opened its doors and arms to a driven woman named Debbie Johnston. Debbie considers MSN her first full-time job and now, almost twenty-eight years later, she has proven her loyalty as the Outbound Services Manager. She leads the outbound team in the successful implementation of outbound calling and email campaigns with great pride. As the head of her department, there are many responsibilities and tasks that fall on her shoulders, but after nearly twenty-eight years, there is nothing that she can't handle. I (Emily) had the privilege of sitting down with Debbie to talk to her about her time at MSN, and learn more about Outbound Calling and what she does to manage it so successfully.
Debbie describes working in outbound as not just coming into work, doing a job, and leaving. "Everyone needs to be aware of a client's needs and genuinely care about them so that the best goals and growth can be reached," she says. In outbound she gets to work with a vast variety of clients, so every day is different, and she is constantly communicating with new people. Debbie is committed to providing clients with a campaign that is sure to meet their goals, and then keep the client involved with its progress, results, and statistics. Debbie says that she keeps an ambitious attitude in the Outbound Calling department by never saying, "We can't," instead, always saying, "What can we do?"
Similar to all of the departments at Marketing Support Network, Debbie could not do great work without a great team. One of the strongest qualities of the team in Outbound Calling is that it is a great balance of new and old. Debbie says that they are always growing their team and looking for new additions of qualified, dedicated people to contribute their talents in sales and marketing. The department runs smoothly thanks to Debbie's knowledge of her team's personalities and where they work best. She is very open to making small adjustments and changes to help her team flourish.
A special 'thank you' to this busy lady for making time for this interview! Debbie, you are so appreciated for what you do to make Marketing Support Network's Outbound Calling the success it is and, even more importantly, making it a wonderful place to work! Stay tuned for the next interview blog!

Emily's experience in marketing, communications, and graphic design has led her to pursue the realm of digital media. She has a strong passion for connecting with people through online and artistic outlets. Emily enjoys producing and brainstorming new content ideas for clients and her modern style and creative mindset help to promote and grow brands. 

Latest posts by Emily Altmyer (see all)