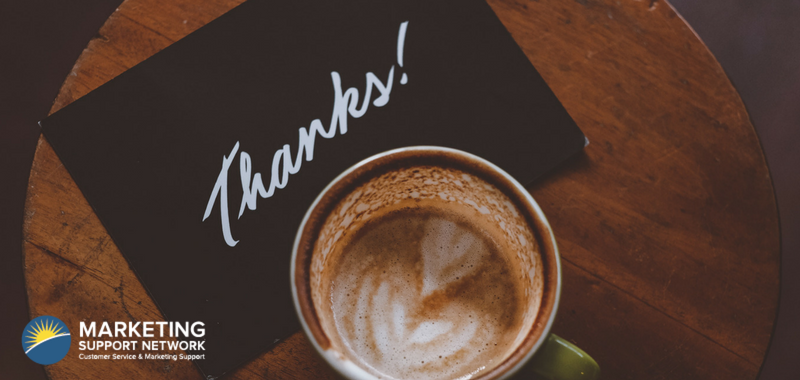 Giving Thanks
Thanksgiving week brings a chance for us all to take time to reflect and pause in the midst of our busy lives to take a moment to realize how many reasons we have to be grateful. It's the time of year when our social media feeds are full of posts encouraging us to be thankful and asking what we're thankful for, and those reminders got me thinking about what makes my list this year.
Obviously there are the big "normal" ones: friends, family, coffee… But beyond that, especially in a business setting, here are three things I am thankful for this year.
A team that cares. This year I have watched our agents, our managers, and our leadership step up and do whatever it takes to best serve our clients. I've seen the CEO helping to take calls on busy days. I've watched contact center agents show kindness to callers who were going through some hard times. I've been proud of how quickly the team came together on short notice to help support the hurricane relief effort this fall. I am thankful to be part of a team that cares so deeply for our clients and their callers.
The chance to support amazing clients. Our clients are doing really cool things! From helping people get fresh water to furthering education to providing critical technical support to hospitals, we get to support companies and organizations who are doing really great things in their industries and communities. I'm thankful that we get to be a part of that!
The chance to grow. This year has been one where my personal role in the company has changed, and that's true for a lot of our team as well. I am thankful for the opportunity that brings to learn, to grow, to fail, to get back up, and to develop us into better leaders. Growth isn't always the easiest process, but I am thankful for the lessons we've learned this year, for the ways we've become better, and for the continued success that has meant for the company.
As we head into the Thanksgiving holiday, I'll add my encouragement to stop, reflect, and be thankful for all the blessings, big and small, that we have. More importantly, I'd encourage us all to keep that as a mindset throughout the year.

As Director of Strategy and Development, Meghan helps our clients design solutions to connect, engage, and respond to their constituents across all communication platforms. Her background in marketing and public relations, combined with her creative ideas, help our clients build relationships that grow their brand. Meghan also manages our strategic partnerships to ensure our clients always have the best technology and services available to them.