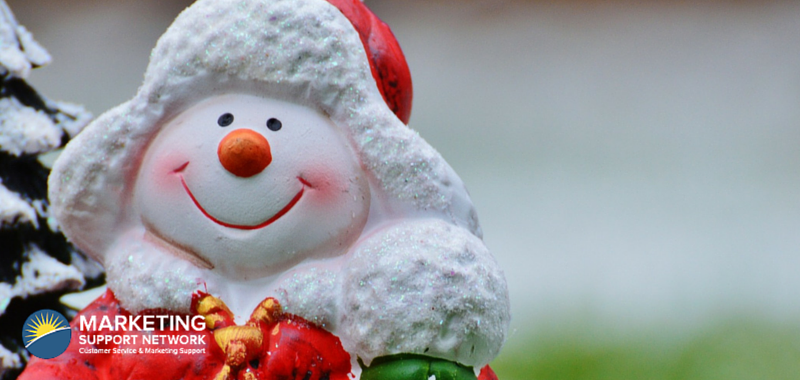 Get in the Christmas Spirit!
Christmas is a rushed time for many people.  In addition to holiday tasks, those who are working full time are often overwhelmed with end of the year meetings, budget planning, 401k analysis, and more once-a-year business needs.  Add to that the fact that many people are working far less days between Christmas and New Year's with more work to do, and you increase the chances of talking with a much higher percentage of stressed customers.
I've had some interesting holiday experiences in the last few years such as being told that I could not use my wife's credit card at a local big box retailer, apparently the penalty of having a name that could be mistaken for either a man or a woman.  Once the person at the register persisted with saying that I was not me, even after I showed my driver's license.  Did I have to explain that my wife does not have a beard?  Another incident came last night as I had literally just finished writing a check for an end of the year contribution to one of the charities we support.  The phone rang and I was introduced to a smooth talking paid solicitor for the exact charity to whom I had just written the check.  The call started off well, until I told him that I had just written the check, so he was a bit too late.  Then he asked me if I would like to tell him the amount.  I said no.  Then he asked if I would like to rip up the check and pay by credit card over the phone because it was cheaper for them (not true).  I said no, that I was going to mail the check I had written and he should not take credit for it since I had already written it before his call.  Finally he asked me if the check was for 'x' dollars, which was the amount I had given last year.  He must have been behind on his quota.  I just hung up.  Wow, did he not care anything about the donor/customer, or for the client for whom he solicits?  Only the over the top excellent experience I have had with this charity in the past as both a donor and a customer kept me from deciding to never give to them again.  I called them this morning to report the incident, and the staffer was appropriately horrified, much to their credit, and the then satisfied continuance of what has been a good relationship for many years.  That experience last night was bad enough to get me to call today, something I almost never do.  Good job on their part today, case closed.
Customers appreciate extra thoughtfulness around the holidays.  They are frustrated, short of time, might be feeling more lonely, have less money, and you can make their holiday more of a blessing by treating them well.  At our company, one of our three core values is care.  The core of that is the golden rule and the first great commandment given by Jesus: love your neighbor as you love yourself.  We are all in the utmost of our own thoughts all day long.  Love your customer as yourself, and love the person waiting on you as you love yourself.  Put yourself in other people's shoes.  Whether your customers come to you in person, and/or by phone, email or social media, this is the time of year to give them extra special love and that extra mile customer experience.  That's what we endeavor to do here for the clients we serve.  Share some extra love with your team at work as they are the people who may well need that extra love around the holidays too.  They need to be able to give a little extra to your customers, so give some to them.  We try to make Thanksgiving, Christmas, and New Years a special experience for our staff as they work extra hard this time of year.
From our team to you and yours, Merry Christmas to all.
Lin founded Marketing Support Network on April 28, 1982. In addition to founding Marketing Support Network, he has experience working as a sales manager for two firms, as well as editing a magazine. Lin oversees the sales, marketing, and business services at Marketing Support Network. He has a bachelor's degree in English, a master's degree in theology and counseling, and MBA coursework.