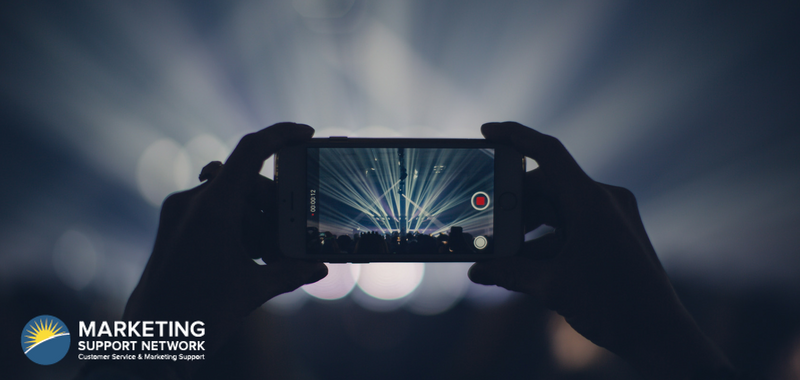 Five Tips for Going Live
In the past few weeks, Facebook live has become an increasingly popular tool. From winter weather updates to holiday gift ideas, organizations of all types are going live to engage with their audience in real time. Before you try it out, here are a few things to keep in mind…
Let people know it will be happening – Give folks a few warnings so that you get as many viewers as possible. Let your audience know a day ahead of time that you will be going live, tell them what time, and what you'll be talking about. Then post a reminder 30-45 minutes prior to your live stream. This will get your audience excited but also let them think of questions or comments on the topic. Encourage your fans to tune in and also share the announcement with their friends.

Be prepared – I've gotten notifications before that pages I follow were live but, when I clicked through, all I saw was an empty studio, empty table, or the floor. If you want to make a practice video or just test it out, set the audience setting on your post to "Only Me". This way you will be able to see how it looks and sounds and you can practice your presentation ahead of time without publishing it to your whole audience.

Check the camera placement – I have seen a few live videos where the cell phone was held the wrong way and everyone shows up sideways. If you are using your phone for these videos, make sure you keep it upright so we can see you.

Have a plan for responding – Many of your fans will be excited to see your live stream. You will get a number of people who check it out and leave comments. Some will just want to say hi and some will have questions or comments about the topic at hand. You certainly don't want to miss these chances to engage with your fans so decide ahead of time how you'll respond. Maybe that is answering their hellos at the beginning and their questions at the end. Or maybe you have another coworker commenting back to them as your organization from another device. Whatever you choose, make sure you thank them all for watching and participating.

Be willing to experiment – Get the first video under your belt. Once you do, take a look at the analytics and tweak your plan from there. If you notice that you lost people after 15-30 seconds you can try doing a shorter video or getting your message out first and doing responses and interactions later. Try doing different styles like question and answers, weekly tips, or staff introductions and see what works best with your audience. Just make sure to track those results and let them influence your plan.
Live Streaming video, whether on Facebook, Periscope, or Instagram, can be a daunting idea but the benefits in the connections you build with your audience are worth giving it a try.
Do you have any Live Stream stories to share? Tell us in the comments below!

As Director of Strategy and Development, Meghan helps our clients design solutions to connect, engage, and respond to their constituents across all communication platforms. Her background in marketing and public relations, combined with her creative ideas, help our clients build relationships that grow their brand. Meghan also manages our strategic partnerships to ensure our clients always have the best technology and services available to them.