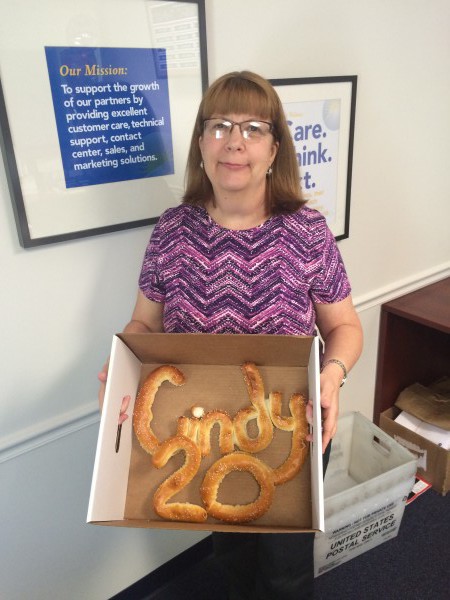 Cindy's 20th Anniversary at MSN
Today we are celebrating Cindy's 20th work anniversary here at MSN! As you can tell, everyone loves Cindy:
 "Cindy, thank you for your 20 years of dedication to Marketing Support Network and for always being there to help when I need you! Most of all, thank you for your 20 years of friendship!" -Debbie
"Cindy is the epitome of above and beyond in her daily work ethic. She is a valued colleague and treasured friend. Cindy is a true blessing to the MSN team and our clients! Thanks for 20 wonderful MSN years Cindy!" -Jan
"I've worked with Cindy since she first started at MSN. She has since become one of my best friends at work and outside of MSN. Hiring her was one of the best decisions ever made.  When she first arrived for her interview she saw me and almost turned around and left. She didn't want to work with anyone she knew. I only knew her because our children were in activities together and we live in the same community. She was just getting back in the work force after years being home with her children. She didn't want anyone to know her in case the job didn't work out. I couldn't imagine a day at MSN without her. She's probably one of the most caring individuals I've ever met. She has made my job much easier through the years." -Cathy
"Cindy is literally the voice of MSN from the queue messages to the first person people get to know when they contact us. Her pleasant demeanor and knowledge of what we do make her the best first contact people could have here. She's a big part of what makes this a nice place to work." -Lin
Thank you for an excellent 20 years Cindy!
Matt's passion is plain and simple: help other people. In college, Matt quickly realized he had a love for connecting with people from all different backgrounds. His work, with a variety of nonprofit organizations, helped him to understand that one of the primary needs of people everywhere is the ability to connect with one another. Matt's background in business and a degree in marketing enable him to create innovative social media content to further develop the customer experience through social engagement.
Latest posts by Matt Slippy (see all)