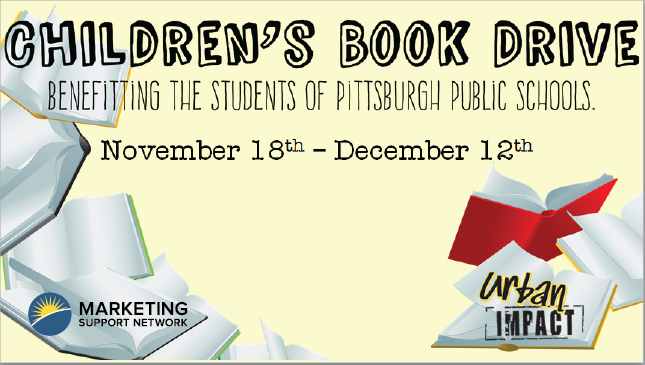 Book Drive for Urban Impact
At Marketing Support Network, the first of our three core values is "Care" and we take seriously that attitude of caring and service that puts others first and looks out for their best interest. That always means caring for our clients and their clients, customers, and audience members, but this Christmas it also means caring for those in our community as well. We're proud to support the Urban Impact Foundation this holiday season! Urban Impact Foundation serves over 1,000 students in first through twelfth grade on Pittsburgh's North Side. They offer programs in the arts, athletics, and academics to help support these students and they are making a huge impact in the community.
One of the initiatives that Urban Impact offers is a Literacy Support program to the neighborhood elementary schools on the North Side. Children in these schools tend to be a few grade-levels behind in their reading skills, so UIF staff and volunteers visit the schools a few days a week, working with Kindergarten through 2nd grade students on reading in a one-on-one setting. Our goal this holiday season is to donate 206 books so that every child in the Literacy Support Program can have a book to read at home and be able to practice those important skills. We're halfway to our goal for the drive that ends on Monday, so if you have any children's books to offer, feel free to bring them down!
                                                                                                                                                                                                                                                                                                                                                  UPDATE: We exceeded our goal of 206 books and got the opportunity to go give them to Urban Impact's Literacy Fund. Thanks to everyone who donated for making these little faces (and 200+ more of them) smile when they received their Christmas present today.
Matt's passion is plain and simple: help other people. In college, Matt quickly realized he had a love for connecting with people from all different backgrounds. His work, with a variety of nonprofit organizations, helped him to understand that one of the primary needs of people everywhere is the ability to connect with one another. Matt's background in business and a degree in marketing enable him to create innovative social media content to further develop the customer experience through social engagement.
Latest posts by Matt Slippy (see all)