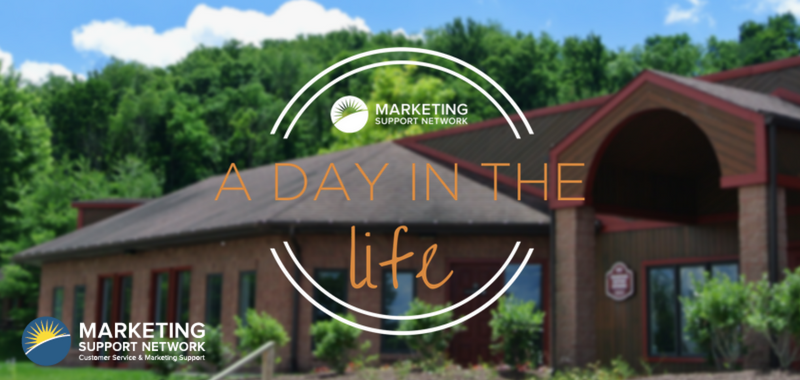 A Day in the Life with Ted
Meet Ted, the Director of Technology Services at MSN. Ted oversees technology support to help us meet our client and organizational needs. Every day, he resolves tech problems and improves internal processes.
6:30 A.M.: I wake up and start my day with half an hour of exercise on my recumbent bike. Since I sit most of the day, I think it's important to get moving and stretching in the morning. 
8:00 A.M .: After I finish up some tasks around the house, I take off for my commute to MSN.
8:30 A.M.: I get to my office, and turn on some Frank Sinatra or Bob James Jazz music in my office to get the day started.  Then I head over to the break room to pick up a Jimmy Dean's breakfast sandwich.
9:00 A.M.: An email came in early this morning from a client asking for a copy of our current PCI-DSS certificate.  The PCI-DSS certificate ensures that MSN is in compliance with credit card security standards.  So I log into our account to retrieve the documents that our client needs.
10:00 A.M.: This morning, I perform a necessary weekly task of testing the back-up generators for our training center and outbound calling center.
11:00 A.M.: I manage the company's network with my colleague Michael. In the mornings, we check up on the exchange server to make sure we have enough email storage space.
1:30 P.M.: Lunch was early today, and I ordered Lo Mein Chinese takeout- my favorite order.
2:00 P.M.: Right now I'm updating Shop Clock, the software that MSN uses for attendance; I'm moving the old databases to a new server to make sure the program can run more smoothly.
3:00 P.M.:  Some of our programs use the database management system Microsoft Access, so I'm developing new programs to make them web-based. This afternoon, I am updating one for a client in the education industry. My goal is to design the layout and finish the new scripts by August.
As a web developer, there are so many things you can get into- I like it all. It's like building a house; the backend work is the foundation and the interface is the layout. 
5:30 P.M.: Towards the end of my day I make a few calls, and head home! 
6:00 P.M.: My wife and I just love to eat dinner outside on our new grill and patio set this summer; tonight we're doing salmon burgers!
7:30 P.M.:  I always try to do some tech work on the side. One fun project I'm doing is the website for my wife's choir. I have all my equipment set up in my "man cave", which makes it easy to spend hours there working on a project or doing research.
8:30 P.M.: For my job, there really isn't such a thing as being "off", so throughout the evening I constantly monitor backups. One saying that I try to let guide my work and personal life is: "To whom much is given, much will be expected."
I am an achievement driven leader with a desire to build up others and to perceptively recognize and address the needs of a group. As an aspiring marketer at Indiana University's Kelley School of Business, I seek opportunities to develop my creative skills, serve others, and learn from my peers. Through constantly stretching and challenging myself in both high school and at Kelley, I have gained leadership skills and collaborated on diverse teams.
Latest posts by Olivia Dornsife (see all)