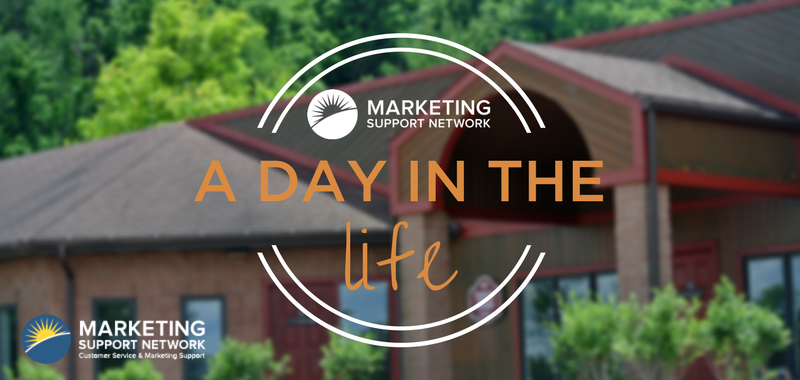 A Day in the Life with Sue
This summer, MSN is thrilled to introduce dynamic team members through our new blog series: A Day in the Life. We'll share the daily routines, challenges, and laughs of our customer experience experts across each of our communication platforms.
Our first installment of A Day in the Life features Sue, one of our Ministry Team Leaders in our inbound contact center. Sue's work in our inbound contact center helps MSN to deliver excellence in customer service and to maintain our industry-beating standards of low call and wait times. Although no day is ever the same at MSN, Sue's experience is representative of the work performed daily by our agents to provide a personal experience for each customer that calls.
6 a.m.: This morning, I wake up to my kitten, Phoebe, greeting me and insisting on getting her canned kitty food!
7:10 a.m.: I head out for work and make sure to leave a few extra minutes to stop off at McDonald's for my go-to breakfast: an Egg McMuffin and an unsweetened iced tea.
8:00 a.m.: When I arrive at the MSN contact center, I prepare myself for the day by checking email and logging into our clients' back-end systems. I look up at the inspirational sayings at my desk; this one always gets me going for the day: "Enthusiasm is like a ripple in the water- it spreads."
9:30 a.m.: I'm a Team Leader at MSN, so I check in with my team to make sure that everyone is updated about the Special Offers and broadcasts for our clients.
10:00 a.m.: Today I'm on the phone making sales, taking donations, and offering tech support for many of our clients. For me, it's important to know the specifics and nuances about each of the organizations so that I can best serve them.
12:30 p.m.: I take out my lunch for a quick break and answer texts and check social media.
2:30 p.m.: Problem-solving is a huge part of my job. When I come across a challenge, I focus on listening to what the customer is saying and finding things that I can do to solve the issue.
4:45 p.m.: I take my last few calls for the day, and send any remaining emails to clients and my team.
6:30 p.m.: For dinner tonight, I'm preparing one of my absolute favorites with my husband- refried beans! They are super easy to make. Once you make them yourself, you'll never want to eat canned ones again.
7:30 p.m.: In the evenings, I've been working with the children's ministry at my church to coordinate our Vacation Bible School. Planning is in full swing since VBS will be coming up for us in just a few weeks! I work at an urban church with mixed cultures, so it's fantastic to meet people with a variety of backgrounds. I've found that those experiences help me in understanding our wide client base as well.
9:30 p.m.: It's a warm summer night, so my husband and I go for our evening walk through the neighborhood to wrap up the day.
I am an achievement driven leader with a desire to build up others and to perceptively recognize and address the needs of a group. As an aspiring marketer at Indiana University's Kelley School of Business, I seek opportunities to develop my creative skills, serve others, and learn from my peers. Through constantly stretching and challenging myself in both high school and at Kelley, I have gained leadership skills and collaborated on diverse teams.
Latest posts by Olivia Dornsife (see all)