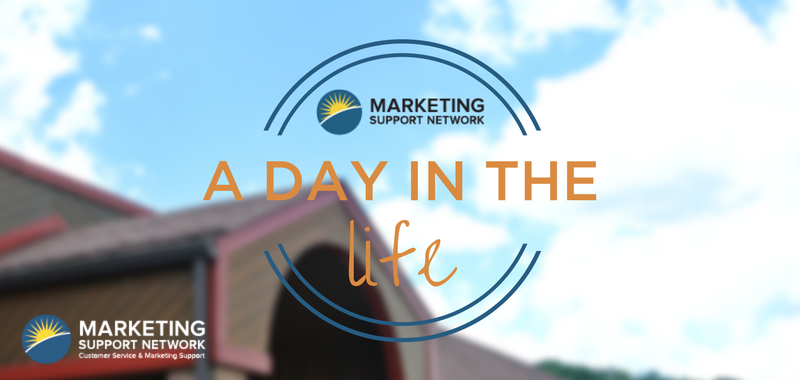 A Day in the Life with Meghan
We're back with our "A Day in the Life" series to highlight some of our very important team members at MSN! Today, we are featuring Meghan Speer, our Vice President of Client Services. She oversees many key aspects of the company including our inbound and digital departments.
6:15 A.M.:  I'm up for the day and working on clearing out the notifications that arose throughout the night on my phone and checking in on what's going on in the world before making a big cup of coffee and getting ready for the day ahead.
7:45 A.M.:  I'm out the door with my packed lunch and dinner for later; it's going to be a busy day!
8:30 A.M.:  I arrive at MSN and do a quick check-in with all of the managers as I head over to my desk. This proves to take a while as the walk to my desk includes passing (almost) every manager at MSN; I stop to check-in with each of them before I sit down and pick out a colored pen for the day- I'm really into color coding!
9:00 A.M.: This morning we have a Crowd Thread team meeting; the digital team meets every Tuesday to talk about projects that are coming up, and to reflect on our performance over the last week.  We also take a look at what's new in the digital marketing and social media industry, so that we can do better work for our clients. In February we are focusing on social media engagement and also email marketing tactics to explore better solutions for our clients.
10:00 A.M.: For the rest of my morning I like to focus on our sales progress by going through our database and following up with prospects and creating proposals and contracts.
12:30 P.M.: I've been on a chicken stuffed bell pepper kick lately! I decide to take lunch and unwind a little with the Crowd Thread and Sales/ Marketing team. I even brought in some cream puffs for them, they were a hit!
1:00 P.M.: I meet with the inbound department managers for our weekly meeting on client needs, scheduling, and overall department performance.
2:00 P.M.:  This afternoon, I have the chance to look back on January's reporting metrics for the digital and inbound teams. We have found in the past month that we have some opportunity for improvement so I meet with the prospective teams to give both positive and constructive feedback.
3:00 P.M.: I am a huge fan of celebrating victories. Today, I signed a new client, and our marketing coordinator, Taylor, approved a lot of different proofs for materials to use at our upcoming tradeshow. We took a quick afternoon Starbucks run to celebrate!
4:00 P.M.: Before the end of the day I meet with our President and CEO, Lin Cook, to touch base on current company goals and other MSN happenings.
The thing I love the most about my job is that every single day is different.  Some days are dedicated to clients, some to the Crowd Thread team, and others may be with the inbound department, or working on processes, no two days are the same!
5:30 P.M.:  I leave the office and head out into the Parkway West traffic to go teach musical theater to inner-city student's grade 6th-12th at the Urban Impact Performing Arts Academy in the North Side.
6:15 P.M.: I quickly eat my dinner that I've packed for today while the students are warming up. Today, it's yogurt, cheese and crackers, and veggies.
8:30 P.M.: After rehearsal, I join some other volunteers and counselors from Urban Impact for a milkshake night at Burgatory. S'mores is definitely my favorite!
10:15 P.M.: I'm back at home after a very busy day to catch up on social media and email before I begin to wind down with a book. I'm currently reading "Portraits in Sepia" by Isabel Allende. I like to end my day with no-screens and 30 minutes of reading.

Taylor's education in Public Relations and experience in marketing for non-profit organizations has brought her to MSN's doorstep. With a passion for telling a story through print and digital media efforts and social media, she brings her talents, passions, and creativity together to assist in lead generation campaigns for a wide variety of industries. She is excited to work with the MSN team to support the implementation of our mission.

Latest posts by Taylor Brenner (see all)