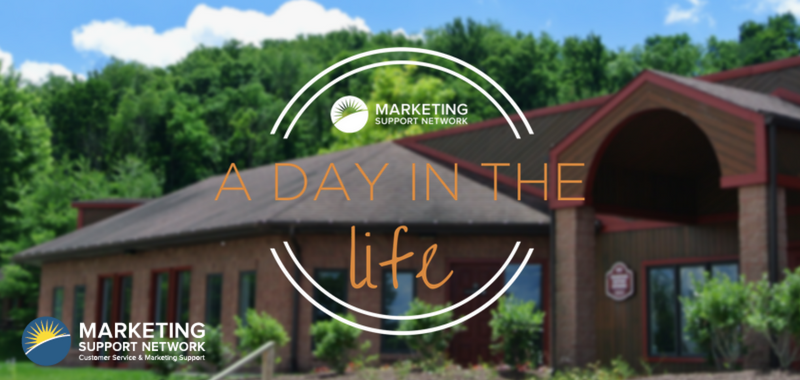 A Day in the Life with Matt
For the final post in our A Day in the Life series, MSN is excited to introduce Matt, our Digital Media Coordinator. Matt is a frequent contributor to our blog and helps to manage many of our clients' digital media needs. We hope you've enjoyed this glimpse into the lives of our employees' lives! Stay tuned for new content every other week to see what's happening at MSN.
5:30 A.M.: Taking a ridiculously long shower always helps me get up in the morning.
6:30 A.M.: I meet with a group of friends from church to chat and have coffee at Panera.
7:30 AM: On my commute to work I usually sit in traffic for a while so I have time to catch up on one of my favorite podcasts, Crime Town.
8:15 A.M: As soon as I get into the office, I Iogin to my computer and check my planner for what clients' content and miscellaneous tasks I have scheduled for this morning.
9 A.M.: I have a one-on-one meeting with my boss to talk about projects I'm working on and where we want to be moving forward as a team. For professional development, I'm working through a book called Brand Thinking, so we discuss a chapter in the book about design and how I can use the concepts in the book to do better work for clients.
10:00 A.M.: On Sprout Social, our social media management tool, we proactively respond to comments on social media. By engaging (liking and replying) with comments, we let the audience know that the brand is listening to them. This morning, I'm handling some of the more challenging comments that have been escalated to me from the night before.
12:30 P.M: It's time for lunch, so the Crowd Thread team heads back to the break room. It's good to have some time set aside to unplug and disconnect.

1:00 P.M.: When I get back to my desk, I check Twitter and the news to see what's happening.
If you're going to be in an industry, you need to be all in that industry. So we always try to learn about things as they are developing- whether that be world events or updates in the digital media industry.
1:30 P.M.: I have a broadcast ministry on my schedule for this afternoon so I listen one of their television broadcasts to pull quotes for image creation. I open up Adobe Illustrator and start creating images that match their brand voice. When I'm designing, I use elements such as font, quotes, logo, and graphics to create an image that makes sense for the brand, but also stands out to the audience.
5:00 P.M.: Before I head out, I chat with my boss for a few minutes about what we've got going on for the rest of the week. I hop in my car and resume my podcast from this morning.
6:00 P.M.: When I get home, I start making dinner with my wife, Becky. We are going through the recipes in the Better Homes and Gardens cookbook, and tonight we are trying a pesto bake!
7:30 P.M.: Becky and I just a bought a new house this summer, so we work on our landscaping in the evenings when we are free.
9:00 P.M.: The last thing we will do tonight is watch a few episodes of The Office on Netflix.
I am an achievement driven leader with a desire to build up others and to perceptively recognize and address the needs of a group. As an aspiring marketer at Indiana University's Kelley School of Business, I seek opportunities to develop my creative skills, serve others, and learn from my peers. Through constantly stretching and challenging myself in both high school and at Kelley, I have gained leadership skills and collaborated on diverse teams.
Latest posts by Olivia Dornsife (see all)