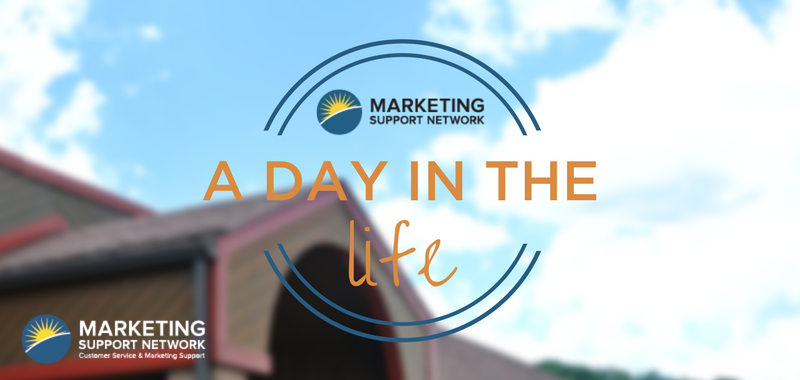 A Day in the Life with John
This summer, MSN is thrilled to introduce dynamic team members through our new blog series:  A Day in the Life. We'll share the daily routines, challenges, and laughs of our customer experience experts across each of our communication platforms.
Meet John, one of our inbound phone support agents:
11:00 a.m.: This morning I wake up to my alarm blaring, and roll out of bed. Because of my working hours, I don't stick to a "typical" sleep schedule. I start my day by shuffling to the next room to get the coffee machine going and the computer fired up.
1:20 p.m.: Quickly, I throw a hasty lunch together and head out for my 30-minute commute to work.
2:50 p.m.:  I arrive at Marketing Support Network, and head over to my work station in the inbound call center; it's a little hectic today because I'm coming just in time for our afternoon rush hour. Right away, I log into my projects, and check any daily updates. MSN operates 24-7, so there are always a few things to catch up on.
3:00 p.m.: It's been a busy week; so I get right to answering the calls on cue once I'm settled.
5:00 p.m.: Most of my calls today are around three and a half minutes; I'm placing online orders, answering questions, and transferring customers to the correct department. I'm trained to take calls for all of our clients, but today most of the customers are calling for our non-profit and education clients.   In my experience, directing a customer to an answer is about guiding the conversation through listening and asking relevant questions.
6:00 p.m.: I take a quick break from the phones to eat a Pop-Tart, and I'm back to work!
8:00 p.m.: This evening, I'm acting as a quasi-supervisor in the inbound call center. So this means I'm bouncing around from desk to desk answering questions to make sure everything is running smoothly. My coworkers are fantastic people. They really are the best part of my job, so it's great to have the chance to work closely with them and to support them.
11:00 p.m.: I leave the office for my commute home and turn on the radio; I filter through stations to find some Alternative Rock on 105.9 for the drive.
11:30 p.m.: When I finally get home to relax most of the world is already asleep.
12:00 a.m.: To wrap up the day, my wife Hanna and I catch up for a bit about the events of the day and whip up some pasta to enjoy together.
I am an achievement driven leader with a desire to build up others and to perceptively recognize and address the needs of a group. As an aspiring marketer at Indiana University's Kelley School of Business, I seek opportunities to develop my creative skills, serve others, and learn from my peers. Through constantly stretching and challenging myself in both high school and at Kelley, I have gained leadership skills and collaborated on diverse teams.
Latest posts by Olivia Dornsife (see all)