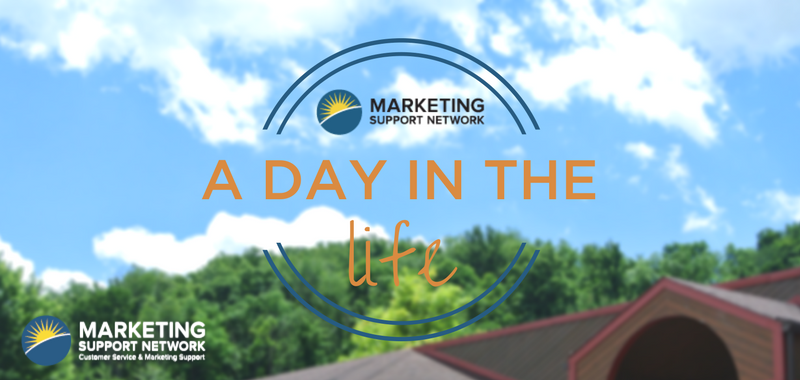 A Day in the Life with Emily
Emily, a Digital Media Specialist at MSN, executes and helps develop social media strategy for our clients. As a member of the Crowd Thread team, she creates unique, branded digital content for platforms like Facebook, Email, and Twitter.
6:20 A.M.:  I'm a get up, get ready, and get out kind of person!
7:20 A.M.: I make a cup of coffee and run out the door.
8:00 A.M.:  Right when I arrive at the office, I feed Karl, our Beta Fish, who lives on the shelf next to my desk.
8:10 A.M.:  The first thing I do on my computer is log onto Sprout Social, our social media management tool, to answer and clear all social media messages from the night before. We actively monitor all of our clients' accounts so that nothing goes unread.
9:00 A.M.: This morning is a Crowd Thread team meeting; the digital team meets every Tuesday to talk about projects that are coming up, and to reflect on our performance over the last week.  We also take a look at new findings in the realm of social media, so that we can do better work for our clients. Today, we are checking out the potential of advertising via Snapchat. 
10:00 A.M.: After our meeting, I return to my desk to start creating client content.
When developing visual content, I personally prefer Adobe InDesign to create my images. It's simple to use, but also has enough specialty tools to cater to each clients' unique needs.  It's so necessary to make sure that our quality and our quantity are top of the line. Every image we make needs to be great, no matter the size of the audience.
12:30 P.M.:  For lunch, it's salad every day! On Sunday, I pre-make all my salads for the week, which makes lunch easy. During the break, it's good to get to know what is going on in people's lives.
1:00 P.M.: I check into Sprout Social again to respond to unread messages from recent posts.
1:45 P.M.:  My coworker, Ted, and I have a shared love for tea, so he stops by my desk to share his new favorite flavor with me.
2:00 P.M.:  I call a client to chat about an upcoming campaign, and make sure that she approves of images that will be shared across their social media accounts.
3:00 P.M.: Some of my biggest clients are actually radio programs. For those clients, I tune in and listen for catch phrases or song lyrics.  I've found that it's a great source of inspiration to make sure their branding is consistent on their media pages.
4:30 P.M.: At the end of the day, I like to make sure that all my tasks are completed, so I wrap up my last client and clear out any remaining messages on Sprout Social and head out for my drive home.
5:20 P.M.: After a long commute, Sophie, my dog, is so excited to see me. My dear mother has chicken tacos waiting on the table for dinner (everyone in my house is a big fan of tacos!).
7:00 P.M.: My boyfriend and I go to a boxing class together; I love focusing on just one thing for an hour. After a really hard work-out, I am dead tired.
8:30 P.M.: When I get home, I check into Sprout to clear out messages, and then I hang out on the couch to watch HGTV with my mom.
I am an achievement driven leader with a desire to build up others and to perceptively recognize and address the needs of a group. As an aspiring marketer at Indiana University's Kelley School of Business, I seek opportunities to develop my creative skills, serve others, and learn from my peers. Through constantly stretching and challenging myself in both high school and at Kelley, I have gained leadership skills and collaborated on diverse teams.
Latest posts by Olivia Dornsife (see all)