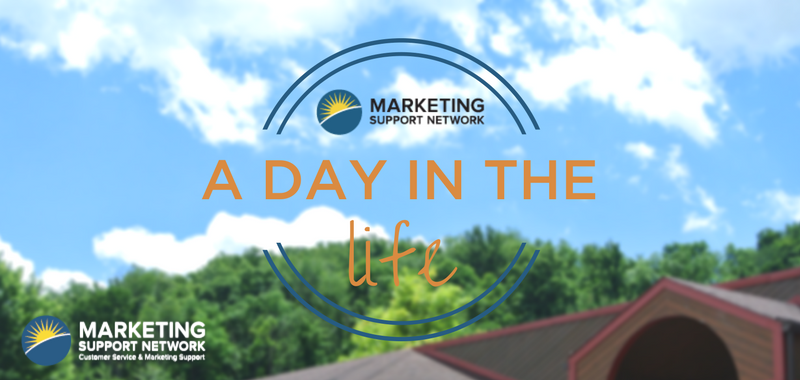 A Day in the Life with Cindy
MSN is excited to introduce Cindy, our office receptionist. Cindy has been welcoming visitors to MSN with a smile and helpful words for 21 years.
5:30 A.M.:  My husband and I enjoy an early cup of coffee together and I help him get out the door by 6:15.
6:30 A.M.:  It's great to have some time in the morning to relax after my husband heads out. Summer mornings are so beautiful so I take a walk around the neighborhood and eat breakfast.
8:00 A.M.:  I arrive at MSN and settle into the front office desk to respond to emails and a few voicemail messages.
8:30 A.M.:  In the morning, I'm answering the MSN line. I collect information from prospects and connect them with someone from our team who can address their specific needs.
10:00 A.M.:  A candidate for an open position is scheduled to come in today for an interview. I welcome him to MSN, help him out with some paperwork, and administer our standard spelling and typing test.
I really enjoy being the first person a guest meets when they come to our office; a lot of my job is making sure that people feel welcome and comfortable here.
11:00 A.M.:  We're running low on some supplies so I check out our inventory and order some paper and toner for the office.
12:30 P.M.:  During lunch, I catch up with my husband on the phone for a couple minutes. For the rest of my lunch break, I read a book that I just started, At Home in Mitford. I have just about a million books waiting to be read on my Kindle!
1:00 P.M.:  In the past few weeks one of our nonprofit clients is receiving a lot of donations. So today I'm processing credit cards from the most recent donations.
Another step in that process for me is to follow-up with thank you notes for the donations on behalf of our client. I prepare the letters and send them off in today's mail!
2:30 P.M.:  MSN performs data entry for some of our clients. I review all data entry files individually for quality control. Basically, I look for spelling errors or missing phone numbers and then send data quality reports to each agent based on the accuracy their file.
4:00 P.M.:  I wrap up my day at MSN head home!
5:00 P.M.:  My husband and I go out for dinner and pick up a hoagie to split from Salerno's.
7:00 P.M.:  We've wanted to see the movie Beautiful Fantastic for a while, so we rented it to watch tonight. I am the popcorn queen, so of course, I have to whip up some of my famous pizza popcorn for the movie.
I am an achievement driven leader with a desire to build up others and to perceptively recognize and address the needs of a group. As an aspiring marketer at Indiana University's Kelley School of Business, I seek opportunities to develop my creative skills, serve others, and learn from my peers. Through constantly stretching and challenging myself in both high school and at Kelley, I have gained leadership skills and collaborated on diverse teams.
Latest posts by Olivia Dornsife (see all)